Cams.com – The best name in live sex Cams does it all correctly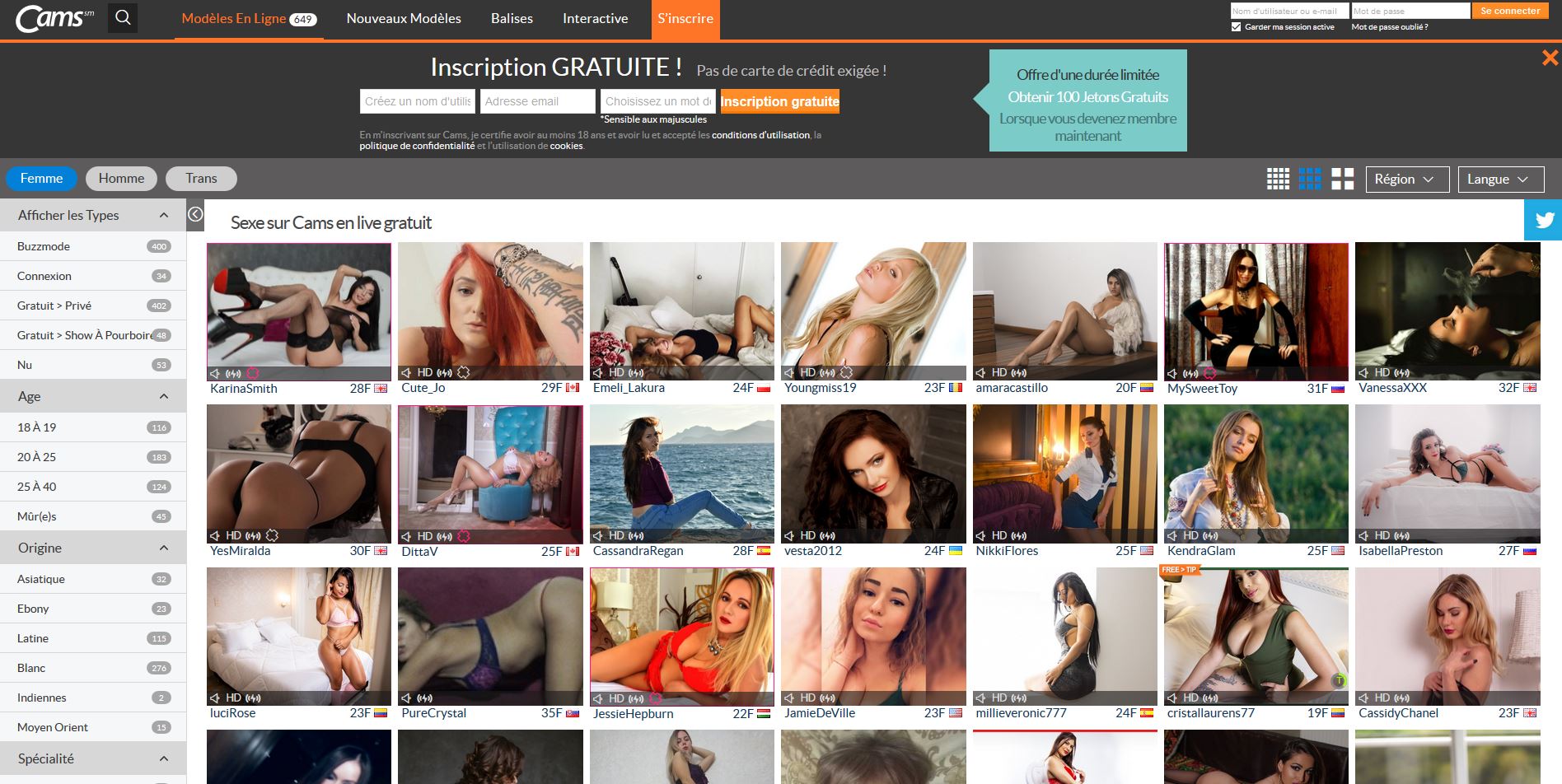 Reviewed by bestlivecamsite
Cams is one of the best live sex webcam platform that gives its members premium services from the quality of the live sex shows, the most beautiful cam models and the ability to interact in a stimulating sexual experience. Cams may be one of the more expensive webcam sites but it has the best shows and features to make up for it.
As a member, you can use the Cams exclusive feature called Connexion that allows you to hook up to a cam model's Lovense Nora. The cam girl will also hook up to your Lovense Max. This exclusive feature allows for total sex stimulated experience and many of the cam models on the site that use it.
Review of Cams.com
Cams has a lot of options for its members including multiple categories to choose from, many of the videos in high-quality HD format, hundreds of cam models to get to know, and the connexion feature. Cams is the place to experience a one or two-way interactive sexual experience using Lovesnse toys. No other webcam site matches how many rooms Cams offer with this feature.
The rooms, however, have no available previews on the Cams site. You can move your cursor over the rooms and often see an updated picture taken from the current live chat so at least you are able to figure out what may be happening in the rooms.
Because of all the perks and the high quality, Cams charges slightly more than the average webcam sex site. However, depending on the kind of experiences you seek, it may be worth it. As a user, you have also given the option to sort out the sex live cams by moving the position of the cam model to either your favorites or the bottom of the page.
Cam Girls
There are hundreds of amazing cam girls on Cams and you can use the categories to narrow down your search. On the top left of the page, you can use the filter to find someone specific to what you like. There are many categories including age, spoken languages, ethnicity, interactivity options used, region, body type, hair color, and kinks.
The cam girls want to please and tease you and you will find many different sex shows that are at the utmost quality and talent.
Cam Men
If you're looking for some saucy male adult entertainment, Cams hosts some of the hottest men in the industry. Additionally, there are always a little more than one hundred cam men ready to put on a show for you. There's every type of guy here from Twinks to Bears and everything in-between. Go explore and see you are attracted to. Be sweet, and you may get what you came for.
Cam Couples
There are not many actual cam couples on Cams. Most of the cam models that have signed up under the couples category are typically a single model and is open to accepting couples seeing him or her together. There are not many couples to find on this web platform and if that's what you're seeking, you may want to try a few different sex live cam sites.
Free Cam Model Profiles
Each model profile on Cams provides juicy details about him or her. There are many categories of information including: awards given by Cams to models daily based of their quality of their show and how many viewers, bio, turn offs and turn ons, virtual gifts that are gifts from her followers, reviews, fetishes and what she is willing to have fun with, and kinky attributes that include things about her physical appearance like tattoos, or full bush.
Anytime you want to show a cam model some love, you can tip them or send virtual events. Cams offers a top admirer program and you can even get perks for being in the top 5 admirers and gain different perks depending on your level.
Cam offers another feature of allowing you to become a part of a  cam model's fan club. The perks of joining the Fan Club include: immediate access to the cam model's nude pictures from shows, roughly 70 percent of all private naked video chat with the model, get to watch all of the model's recorded sex shows, and gain access to the model's email and start a chat with her.
To become a member of a cam model's fan club, it will only cost you $14.99 per month however, there are cheaper options if you purchase a package of three months.
Webcam Sex Chat Options
There are many sex chat options on Cams including open video chat, private chat, group shows, tip shows, and voyeur shows.
Open video chat and tip shows are under the free category. Open video chat allows you to openly chat up cam models. You can tip them and may sneak a peek at the skin. Tip shows allow members to tip cam models, ask for requests, and help the model reach her tipping show. The models are only allowed to be nude during the show and will typically ask for an initial payment from each member before starting the show.
We recommend experiencing all the different kinds of shows, so you understand what you like. However, if you're considering a voyeur show, it costs about the same as a private show except you cannot hear what's going on.
Live Sex Video Quality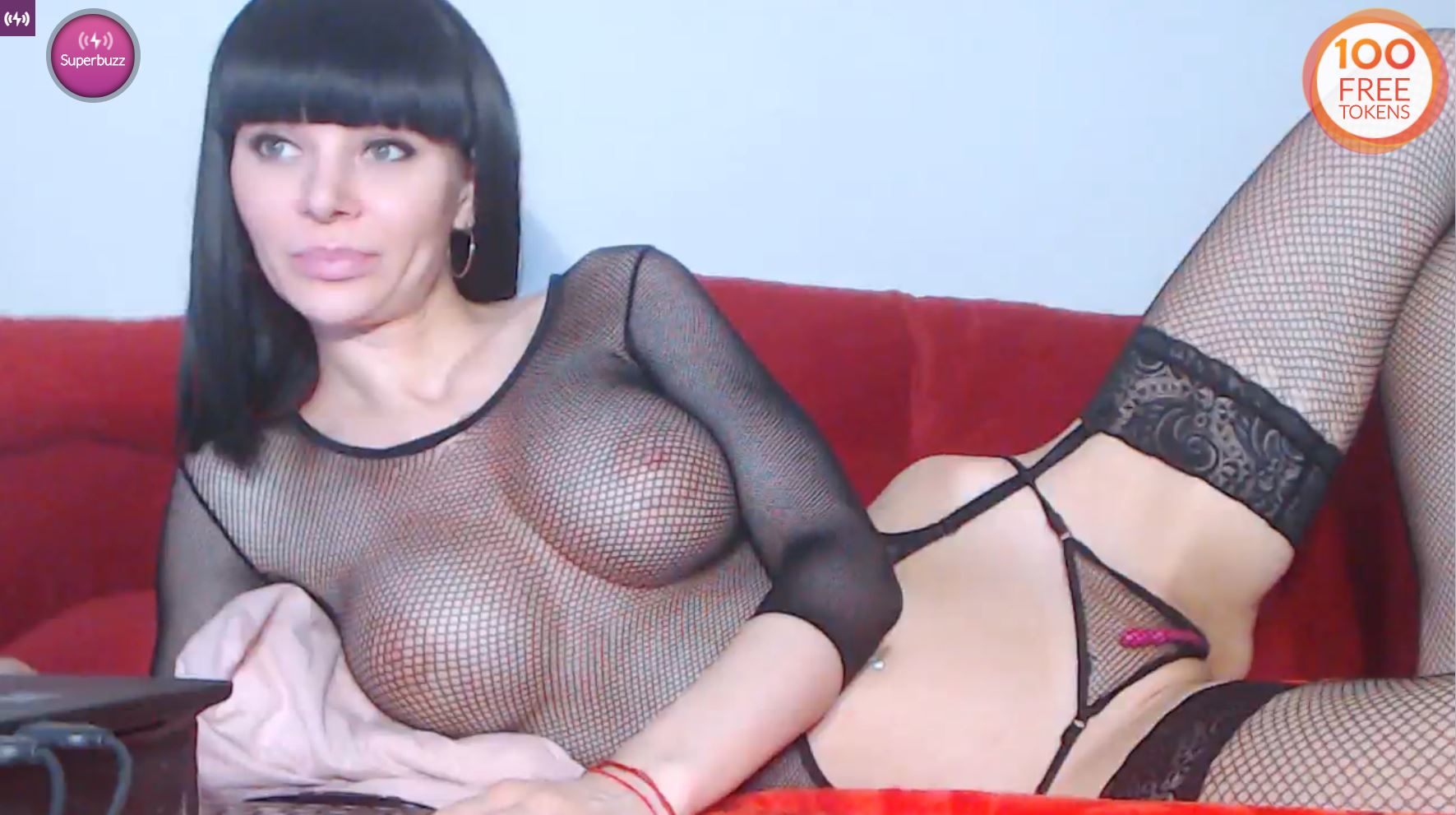 The live sex videos are top-notch with most videos being in HD and a few in HQ. The video feeds are quick to load and the streams are stable.
Cams.com Mobile Cams To Go
Cams mobile is efficient in most ways and looks like a mini version of the browser. There is an issue when you open up the chat as it opens up a keyboard that obscures the screen.
Cams.com Prices And Discounts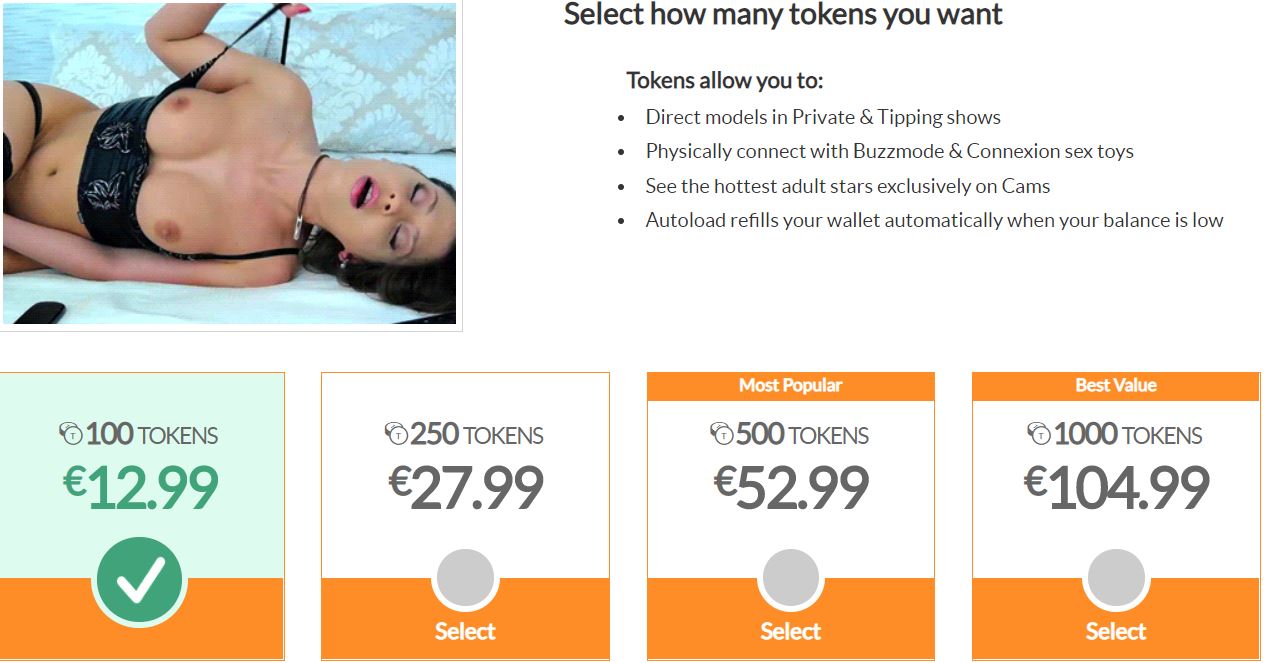 Like many other webcam sex sites, the more tokens you purchase the lower the price will become per token. Cams also rewards members 100 tokens for entering a valid credit card. You can get 100 tokens for 12 dollars, 500 tokens for 50 dollars, or 1100 tokens for 100 dollars.
There are plenty of valid payment methods on Cams. You can use a valid visa or MasterCard, pay by mail, or set up a bank transfer to make token purchases.
It's highly recommended to join fan clubs of your favorite models so you can save money and get some awesome perks.
Even though Cams is one of the more expensive sex webcam sites, it's highly worth it if you want to experience connexion or use one of the sites many other features.
Getting Started on Cams.com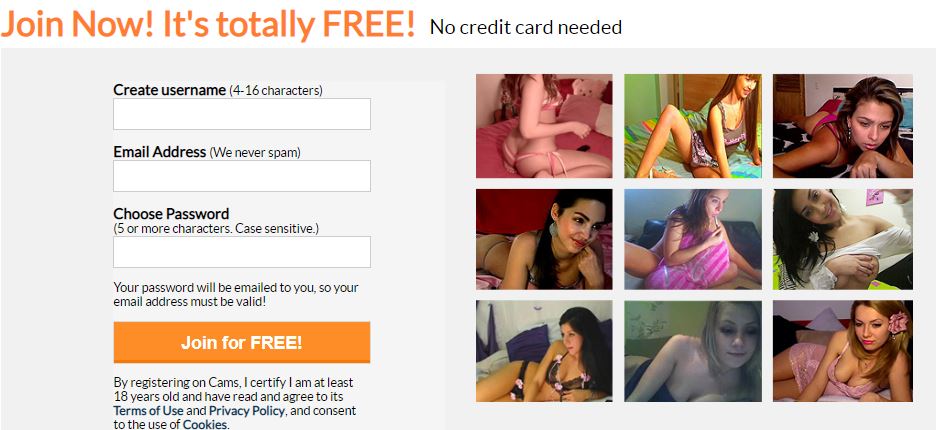 It's simple to become a member on Cams as all you will need is a username, email address, and password to create an account. You will then need to purchase tokens to get started. You can view the open chats without tokens but won't get too far.
Cams.com Customer Support
Cams has an extensive FAQ section on their site, which should cover 99.9 percent of questions. You can also email the customer service/ technical support and or billing support and can find a working email to send over your concerns or questions. At present, Cams does not offer live chat assistance.
Cams offers two main types of premium memberships: Premium and VIP membership. Both give its members perks and can save you money in the long run.
Pros
A few different loyalty options are available and will save you money
A good model base that includes the connexion feature to their shows. Connexion is one of hottest things to experience and you are able to do so with stunning cam models on this platform!
The model thumbnails are filled with interesting information about each cam girl
Hundreds of cam girls and boys
Cons
There are no previews of the cam rooms
Be aware of Buzzmode as it may make you lose tokens
Cost is slightly higher than other webcam sites
conclusion
Cams is one of the most high end and expensive live sex webcam sites. It offers members the feature of connexion, with real live virtual sex. On this site, you can have a lot of fun with the stunning cam models viewing various kinds of shows. Once you found a cam model or two that you love, join her fan club to cut costs of private shows. Cams has some of the hottest cam girls and boys and you can have hours of fun exploring and experiencing all kinds of shows.