Chaturbate – The Random Cams That Always Make You Feel Lucky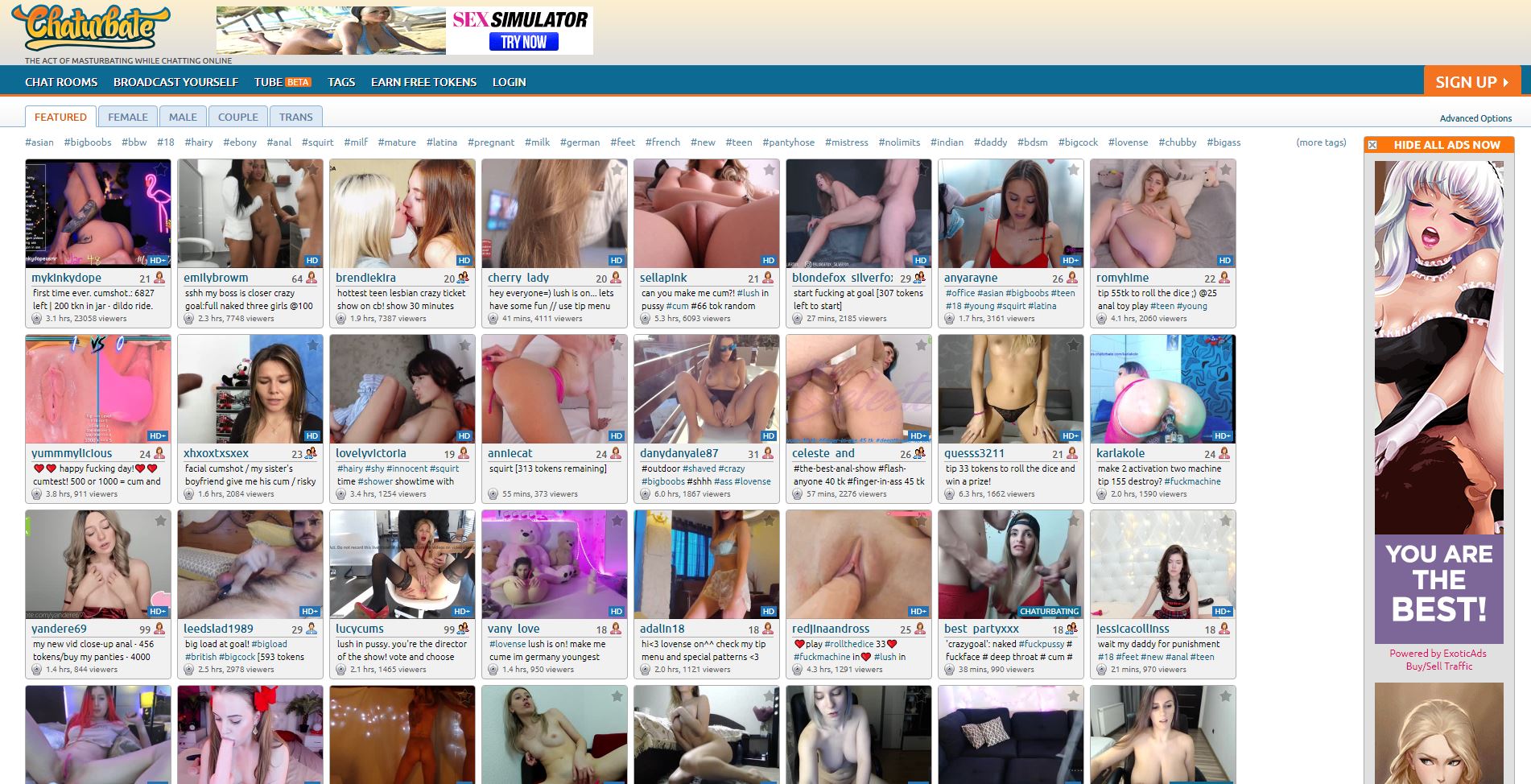 Reviewed by bestlivecamsite
Chaturbate is one of the most popular cam sites. It's easy to use and it has a lot of features to make you stick around. The layout starts with a home page full of the sexiest girls online right now plus a list of hashtags like MILF, squirter and Latina to help you find the best girls that you want to see right now. These chicks don't hold anything back at all! They could be doing anything kinky in their cam shows that you would be totally lucky to see.
Chaturbate Review
Chaturbate is a top cam site that girls love to work for and guys love to watch. It's an easy to use venue that is full of thousands of models who are chaturbating AKA chatting + masturbating! So there are thousands of models overall and hundreds of them are online at any given time. Up late? Sign on. Avoiding the family on Xmas day? There will be chicks to play with. Lonely on New Years Eve? Join a cam show for a hot good time.
So why is Chaturbate SO popular? Well, it is one of the only places online where you can actually view a cam show for free. Without an official account you can't do anything else, but you can watch and there are no time limits for how long or other tactics that some cam sites use to draw you in. So, you can watch the fruits of other people's tips for fully free and sometimes that results in some amazing action!
This is one of the places where you can get totally nasty with other people live online completely for free. The chicks come from all over the world just to give you a good show online so why are you making them wait for you? Get to Chaturbate ASAP!
Top Webcam Models on Chaturbate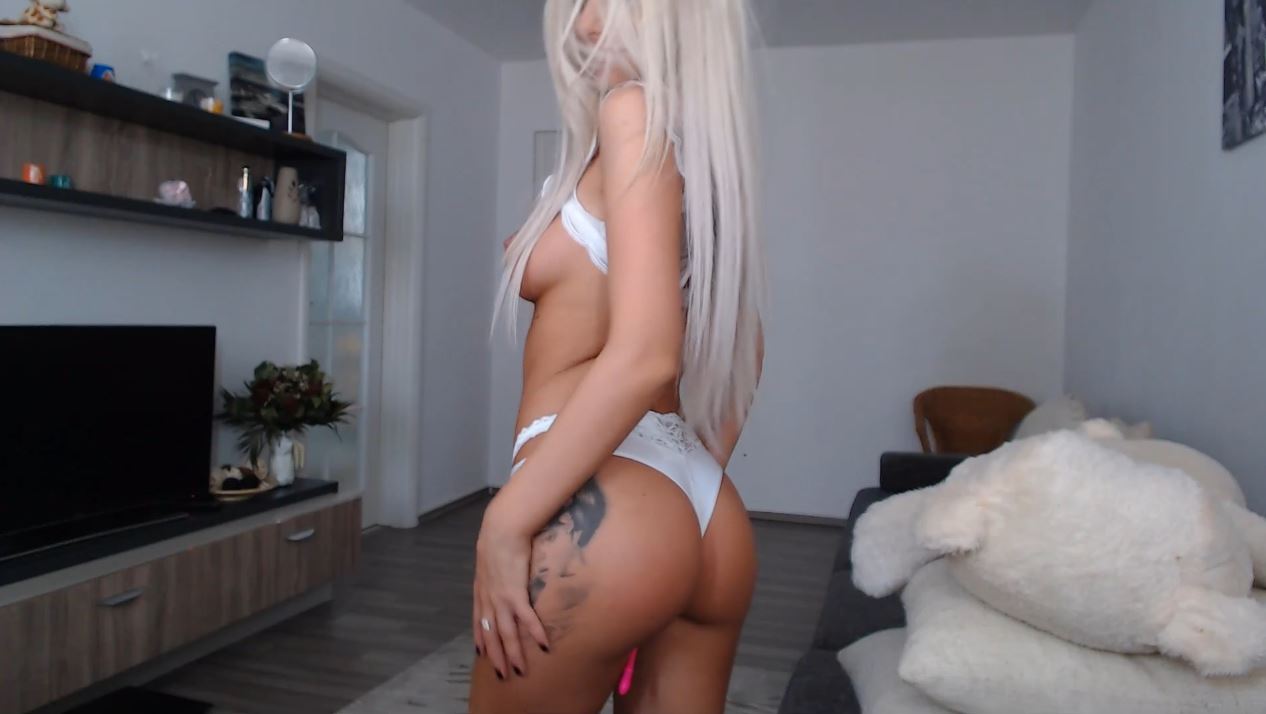 The top webcam models on Chaturbate include the girls who can get up to 1000 or more people looking at their chat room at one time. If you go to the contest stats tab on any profile page, you will see who is in the current running. The girls get an award for having the most points based on viewers in their room with each passing hour.
One young lady who is consistently in the top is secretgoddess0, a hot blonde who you will often find sticking dildos up her ass and vagina.
Another one is called 5Twerkingbaby, and she is extremely flexible, often seen fucking a dildo in a complete standing split.
Finally rayssa69xxx is a hot brunette camgirl who can make your dreams come true.
Cam Girls
There are tons of girls on here and this is one of the popular cam sites that girls like to use. Many of them don't even like taking private shows because the tips in public chat are so good! Find any type of girl on here because they are here from all over the world in every color, shape and size.
Cam Guys
There are cam guys here too. Just click to the male tab on the top of the home page to find them.
Trans Cams
Yes, you can view trans women on here as well. This is a site that aims to please so everything that you might want to explore can be found.
Couples Cams
Find couples by browsing the tags and finding the one for couples. There are plenty of them in different configurations on this site.
Free Cam Model Profiles
The profiles here are pretty cool. You get some basic stats on the girls like their birthdate and where they are from. Then they can add their own custom HTML content at the bottom. Some profiles end up looking like your old MySpace page but others of them look great. At the very least even if it looks a little silly it does give you a lot of information about the girl's specialty or what they want to do online and their prices for different tasks.
Webcam Sex Chat Options
There aren't that many webcam chat options on Chaturbate. That's because the girls themselves prefer to stay in public free chat because that's where all the tips are. They may choose to do privates but it is pretty rare. Privates are rather expensive on this site because girls can make so many tips in public. So, view in public chat. However, make sure to check for the icons that tell you the different video qualities available and tags for different activities the girl is open to doing.
Live Sex Video Quality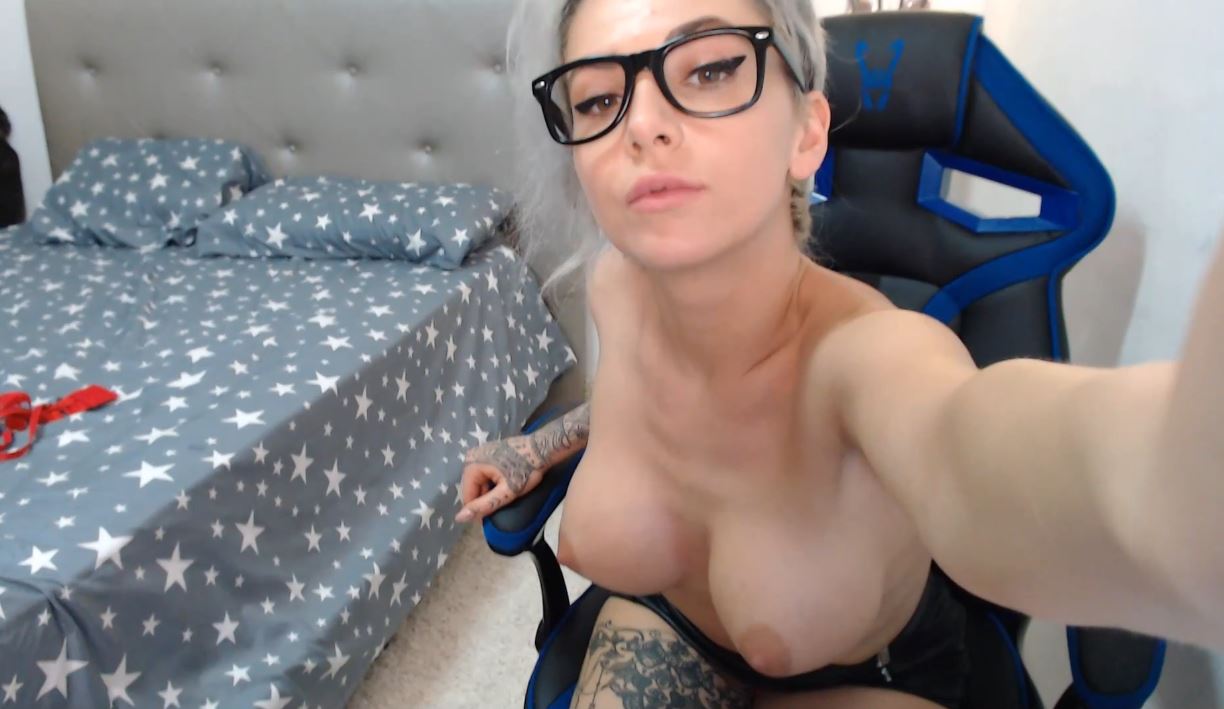 The video quality here varies because you can't make every girl get the same camming equipment. However, most of them try very hard to do their best resulting in the majority of the girls having HD or better cameras. You can just look for the petite blue icons that let you know about the video quality right on the thumbnail of the girl's show.
Chaturbate Mobile
Yes, this site is available for mobile with all the features in tact. Why should you only be able to watch a webcam show when you're at your computer. You never know when the mood will strike or when your favorite will have an impromptu show when you're not online at a computer! They have thought of everything to keep you happy here.
Chaturbate Prices & Discounts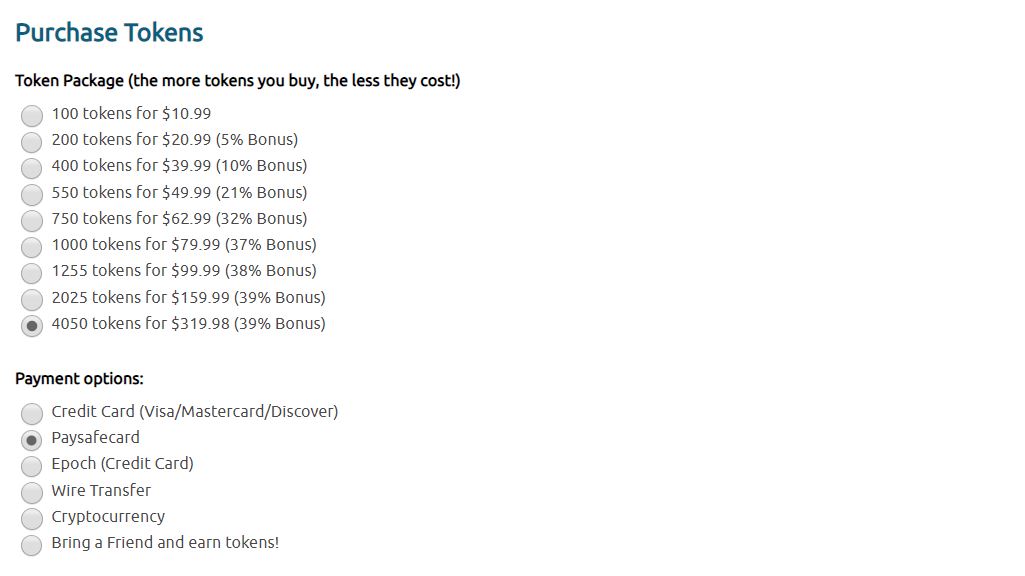 The prices are reasonable and though the girls set their own prices for tipped activities in free chat, you will find that most are very reasonable. Plus, you can always just watch for free without getting any tokens. The prices for tokens are reasonable and you can save pretty big by getting bulk tokens. They also give you options to earn free tokens!
Getting Started on Chaturbate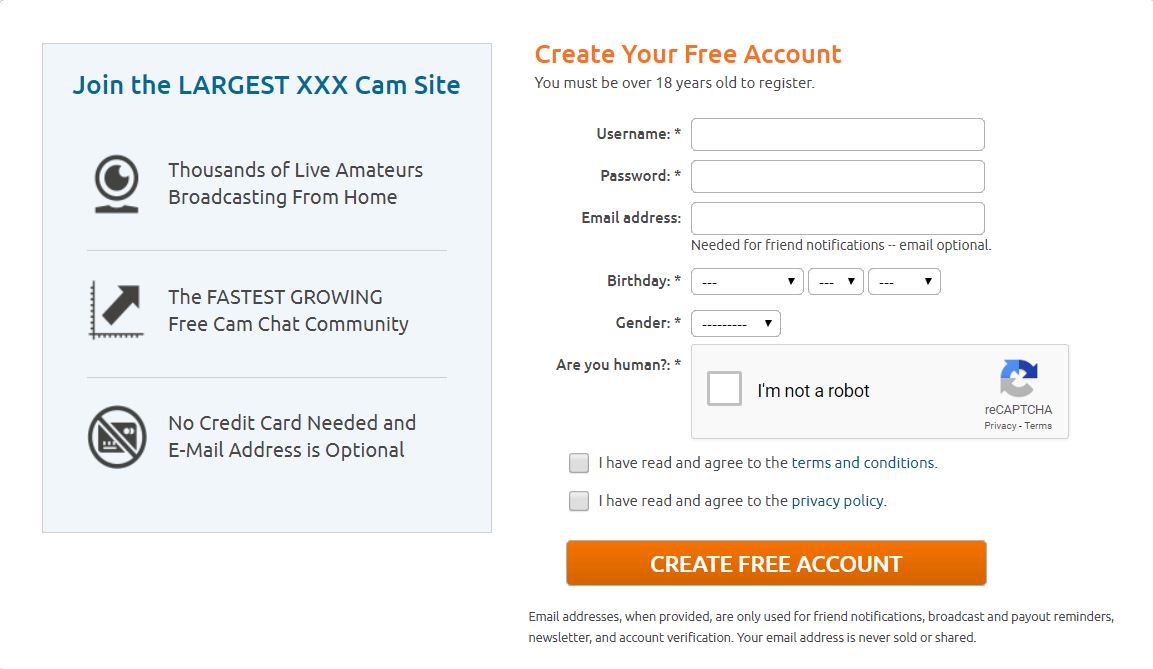 Chaturbate is so easy to get started. You don't even have to sign up for an account or anything to view the free cam shows. Just click over to the site and start browsing. It really is that simple. When you find some girl that you absolutely HAVE to tip you can sign up for a free account where giving your e-mail address is optional and you can purchase credits to tip the girl of your dreams.
Pros
Totally free to watch no matter what
Wide variety of models online at any time
Hashtags to help you find what you want
HD cams and HD+ cams
Mobile Friendly
Cons
Pricey for privates etc.
Will spoil you compared to other cam sites
conclusion
The truth about Chaturbate is simply this: why aren't you already there and watching free live cam shows? If you're looking for private shows, maybe this isn't the one for you, but for free live porn with the most beautiful models from all around the world? Stop wasting time and get over there now!